Data Analytics
'Big Data' lies at the core of every major business today, as there has been more data generation on the past two years than the history of humankind. Today, the success of businesses hinges on data gathering and storage, as well as its proper utilization.
AIT understands the crucial nature of such data, as well as the predicament faced by most companies in managing such data. In order to help companies address their Big Data requirements, our team provides elegant data analytics in the form of Hadoop, MapReduce, Elasticsearch, as well as various ETL (Extract Transform Load) tools.
Perpetually motivated and curious: We constantly work to gather insight from huge chunks of data that were of no use previously.
A probing approach: To identify different patterns and establish their application based on pertinence.
Versatile and comprehensive capability: We work with multiple languages, such as Python, Logstash, MapReduce, Big Data, and more.
An Elastic approach: We specialize in Elasticsearch data analytics, that helps you realize expected goals, and discover unexpected ones.
It is estimated that data volumes will amount to 44 trillion GB by 2020. In order to help your company adapt with this growing standard, AIT provides data analytics solutions that are developer-friendly, offer real time analytics, and streamline indexing of data. Here are some common hurdles that we help you clear:
PROBLEMS
Storage and structuring of large amounts of data, for analysis
Processing an immense amount of data
Millions of documents worth in data to be analyzed, which affects system performance and leads to lowered response time on queries
SOLUTIONS
Creating an efficient data analytics ecosystem by storing data on HDFS, and using niche data extraction technologies
Data processing is done using MapReduce
Using Elasticsearch to analyze NoSQL database, whilst simultaneously feeding in the SQL server data. This leads to a 33% (approx) reduction in average response time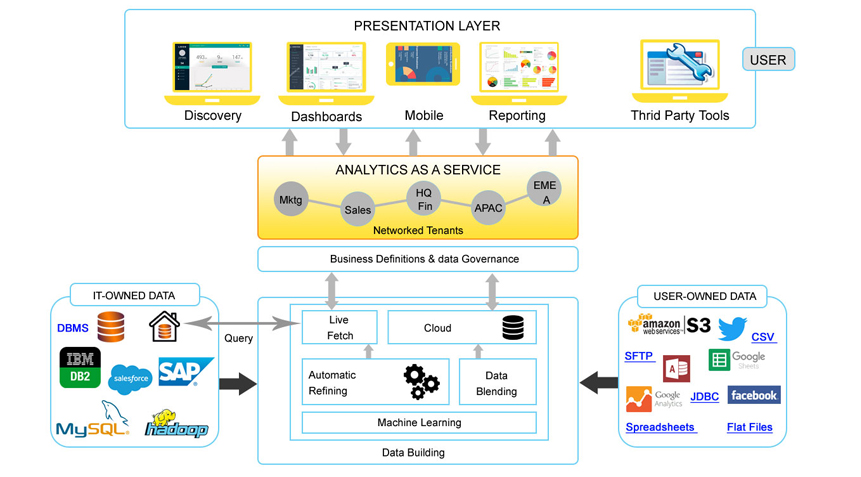 Machine learning
Machine learning, the heart of all AI (Artificial Intelligence) systems, is the executable component of data analytic procedures. At the root of AIT's machine learning services, lies data gathered from different sources, which is then used to explore new opportunities in the form of dynamic performance, efficiency and promptness.
In 2012, a major e-commerce platform acquired a robotics firm called Kiva. As a result, machine learning algorithms were used to automate the company's warehouse logistics. This led to a reduction in the company's 'click-to-ship' time, from 75 minutes to 15 minutes. The implications in terms of savings are exponential in such cases, and that is the kind of exponent we aim to introduce in your business.
Our expertise extends across various platforms, such as Python, Logstash, Elasticsearch, IBM Watson, and others. We provide a range of AI software solutions that enables your business to have a mind of its own (literally), thus getting you that much closer to your goals:
Better machine learning training, for improved performance
Machine-controlled spam content filtering, such as in spam emails
Smart email categorization, based on various aspects of usage patterns
Automated response capability for emails
Speech recognition, thus making communication simpler, and more intimate