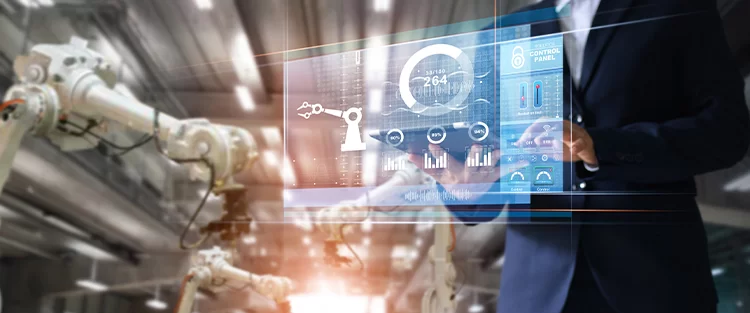 July 3, 2023

AIT Global Inc

0
Automation – Automatic, this word must be fascinating many of us. And it reminds us of those childhood comic stories where hero can do anything – almost anything automatically with extra power and win over the enemy, it's like a miracle.
Well, 'The Automation' has made the miracle a reality now for all. Let's understand the automation in reality of course not by cherishing those childhood stories. Lol!!
So what is Automation? 
Any sequence of activities that happen on its own without human intervention or little human intervention and can give desired result; such self-directed sequence of activities is called automation. For Examples:
Currency Counting Machine
Automatic Coffee Vending Machine
If we want to talk about business process automation than we need talk about Robotic Process Automation. Let's do that now.
What is RPA – Robotic Process Automation? 
In any industry, business process can have repetitive, routine tasks that are tiring and uninteresting to perform by human. RPA is a type of software that mimics the manual activity being done by human within a process. RPA can do repetitive work quicker, accurately, and continuously better than humans. Hence, freeing human to do other tasks requiring human strengths such as reasoning, judgment, emotional intelligence, and interaction with the customer.
RPA Tools
There are several RPA tools available in the market, few are.
Automation Anywhere
Blue Prism
UiPath
PEGA
Workfusion
Nice System
Visual Cron
There is an another type of automation – Cognitive Automation.
What is Cognitive Automation?  
Mainly RPA does automation of physical tasks that don't need knowledge, understanding or say intelligence and can be done by writing set of commands instructing the computer to do some action. However, Cognitive Automation works differently and can be combined with RPA to add intelligence to overall automation implementation.
Cognitive Automation restricts upon the knowledge base that a human being has and on other human attributes beyond the physical ability to do something. Cognitive automation can deal with natural language, reasoning, and judgment, with establishing context, possibly with establishing the meaning of things and providing insights hence, there is a big difference between the two.
In simple term, Hand Work (like entering data from one application to another application) can be automated with RPA whereas Head Work (extracting information from the unstructured sources) can be automated with Cognitive Automation (self – learning automation).
Cognitive Automation Tools
There are several Cognitive Automation tools available in the market, few are.
Working of RPA includes broadly 4 crucial phases.
Planning phase: Gather the process information to be automated & identifying the test objects and finalizing the automation implementation approach 
Development Phase: Creation automation work flow as per agreed plan using RPA tool.
Deployment and Testing Phase: This is a vital phase, since it uncovers unexpected outages and ensures the bug free product
Support & Maintenance Phase: Ensures product continuously updated across the user base with the latest updates.
Industries using RPA 
RPA has bigger landscape but typically Banking and finance, IT Integration Services, HR, Insurance, Marketing, CRM, BPO/KPO can implement RPA solutions.
Benefits of RPA
By 2024, organizations will lower operational costs by 30% by combining hyper automation technologies with redesigned operational processes. (Gartner***)
Organizations that have piloted RPA expect, on average, a 9-month payback period while, in reality, the payback achieved by those that have implemented and scaled RPA has been 12 months. (Deloitte Global RPA Survey)
There is an expectation that robots could deliver a significant portion of current transactional activities. On average, the expectation is that 20% of FTE capacity could be provided by robots. (Deloitte Global RPA Survey)
Market size forecasts
Robotic process automation (RPA) software revenue grew 63% in 2018 to $846 million. With nine of the top 10 vendors changing market share position in 2018. (Gartner*)
The global robotic process automation market size is already valued at $1.40 billion in 2019 and is expected to reach $11 billion by 2027, expanding at a CAGR of 34% from 2020 to 2027 (Grand View Research).
By 2025, the market for collaborative robotics is expected to reach $12 billion (MarketsAndMarkets)
RPA Challenges
Only 3% of organizations have scaled their digital workforce. (Deloitte Global RPA Survey)
The time and cost to deliver RPA tend to be underestimated by organizations. 63% said their expectations of time to implement were not met and 37% said their expectations of cost to implement were not met. (Deloitte Global RPA Survey)
Only 17% of respondents faced some employee resistance when it comes to piloting RPA. This dropped to only 3% with respondents who were implementing or scaling RPA. (Deloitte Global RPA Survey)
Blog on RPA
https://www.automationanywhere.com/in/blog
https://www.blueprism.com/resources/blog
https://automationedge.com/blogs/
In Summary, automation matters significantly and is unavoidable doesn't matter which tool and type of automation industry uses.  Amount of automation is still limited compared to the level of automation tools available to overcome primary challenges like…
Employees spend significant time on repetitive tasks
IT departments spends significant time of their time on basic low level tasks
Companies spend significant dollars for manual invoice processing
A typical rules based process can be 60%-70% automated.